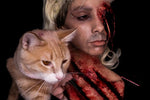 Tiger King Halloween Makeup Idea
If you haven't binged on the Tiger King series, what have you been doing with your life? Forget Halloween, because Joe Exotic is the real horror show! We couldn't look away, which is exactly how we feel about this Tiger King Halloween makeup idea from @ghourhees. Get the deets on how she used Tattoo Junkee Cosmetics to help transform into this wickedly good rendition of Tiger King Joe Exotic.
For the side of her Tiger King face that only Joe Exotic's mother could love, @ghourhees first primed her eyes, then applied Lady Stardust Metallic Eyeshadow on her lid, and Starlight Metallic Eyeshadow to highlight under her brow and the inner corner of her eye.
Since we're going ghoulish here instead of glam, she used the deep purple from Galactic Goddess Metallic Eyeshadow to shade the very inner corner of her eye, then pulled the color out and underneath her eye. Hello dark undereye circles that most of us try to hide!
And for that Joe Exotic tan from being out with the tigers and shooting music videos all day, @ghourhees used the Summer Sun Glo-Lite Palette for additional highlights and contouring. Top the lips with Jungle Boogie long-lasting lip paint and you're ready to gory.
Now, for the part of her Tiger King face the rest of us love, @ghourhees used latex, cotton and additional makeup to get those gloriously gross gouges from tiger claws. Check out her social and other tutorials – or there are Halloween makeup kits you can order online to create similar effects!
Pop on that blonde mullet, draw on a mustache and add those piercings to complete your Joe Exotic Tiger King look. We don't know about you, but this is one Halloween makeup idea we can't wait to get our claws on! MEEEEOW.