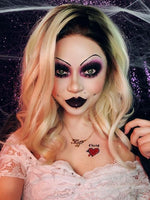 Horror Movie Character: Bride of Chucky Makeup
Gather round boys and ghouls, because if you're looking for makeup ideas for Halloween, we've got a killer look in store for you! If you haven't considered dressing up as the baddest doll on the block, this Bride of Chucky makeup from @sydneynicoleaddams will make ya do a double take. Get out your Tattoo Junkee cosmetics stash, put on a white dress and get ready to transform into a horror movie character to die for! Barbie, eat your heart out.
To start your Bride of Chucky makeup look, cover your brows using your favorite technique. (If you're not sure how to do this, there are a ton of tutorials online!) You can of course skip this step, but if you really wanna capture this horror movie character, her brows are definitely part of the look. Once your brows are covered, apply your foundation and contouring as normal, then draw on those thin Bride of Chucky brows with the Tattoo Junkee Black Eyeliner Pen.
Your Bride of Chucky makeup should include a dark, dramatic eye look to truly emulate this horror movie character. @sydneynicoleaddams used Tattoo Junkee Space Dust Metallic Eyeshadow in Galactic Goddess, which is a velvety deep shade of plum. Work the shadow completely around your eyes, and don't be afraid to really layer it on for extra villainous vibes. Highlight your inner corners with Starlight Metallic Eyeshadow, then line them with thick black liner. Finish with lashes along your upper and lower lids.
To finish your Bride of Chucky makeup, use the Black Eyeliner Pen to create a mole above the left side of your upper lip, then blend Whatever and Gifted Long-Lasting Lip Paints on your lips. Throw on a blonde wig and a white dress, and you're ready to be a horror movie character no one would dare leave standing alone at the altar. Feeling inspired by this Halloween makeup idea? What killer looks are you creating with TJ this Halloween? Tag us on social and give us the deets!