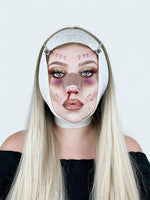 Simple Halloween Makeup: Plastic Surgery Nightmare
Going under the knife can be scary enough in real life ... what if the doctor is a hack? What if they ruin your face? What if it hurts reallllly bad? (Sorry if we're scaring you but seriously.) That's why this is actually a super clever and simple Halloween makeup idea from @tedyana that's frighteningly fabulous. The best part about this plastic surgery makeup idea is that you don't have to go out and buy a fancy costume to go with it; just hit the drug store for some bandages and bandage wrap and use Tattoo Junkee makeup products we know you already have (hint, hint) and you've got a Halloween look that belongs on "Botched."
GET THE LOOK: Simple Halloween Makeup - Plastic Surgery Nightmare
First start off with your normal face makeup routine. Apply your concealer, foundation and contour as normal, and don't forget to fill in your brows! (@tedyana is currently a fan of the soap brow method.) To get the same eyeshadow look, use a light brown shade for your transition shadow, then a darker brown in the outer corners. Add Tattoo Junkee Moonbeam Glittzees on the lid to make your eyes pop with golden sparkle. Finish your eyes with liner on both the upper and lower lids, and mascara and lashes and you're ready for the next phase - plastic surgery (makeup, that is)!
Apply Animal Instinct Lip Paint to lips and blot some concealer on/around them to make them look plumper. To create the plastic surgery lines, you can use a small detail brush and face paint, or you could even use a dark eyeliner pen. 
To create bruising effects under your eyes, use Tattoo Junkee Space Dust Eyeshadows in Magic Dance and Cosmic Queen, smudging with fingers or a sponge to blend. If you want darker effects, you can add some purple face paint for serious opacity.
Place a cotton ball on nose with a bandage over the top (you can use lash glue to hold in place if needed), then use fake costume blood to create blood dripping from nostrils for extra scary effects. Wrap head and neck with bandage wrap and your plastic surgery nightmare look is complete! What a simple Halloween makeup idea that's actually scaring us on the real.