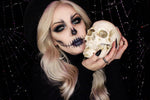 Easy Glam Skeleton Makeup How To
Searching for a bone-chilling Halloween look that's still a little babeworthy too? This glam skeleton makeup how to created by the talented @bayleemadisonmakeup is exactly what the gravedigger ordered and has us wanting to get goth with it this Halloween. The best part about this skeleton makeup look is that you don't have to do any shopping to get ghoulish; you just need to raid your stash of Tattoo Junkee supplies for an awesomely easy way to dress to impress for Fright Night fun.
GET THE LOOK - Easy Glam Skeleton Makeup How To
Apply your concealer and foundation per your normal routine. Swipe a lighter base shadow onto your lids then smudge black shadow entirely around eyes, extending the shadow from the inner corners outward. Use the TJ black Eyeliner Pen to add thick black liner in a winged style along top lid. Line lower lids as well. Accent inner corners with a sparkly shadow or a product like Star Struck Glittzees. Finish eyes with mascara and lashes if desired.
Use the black Eyeliner Pen to draw a skeleton nose shape on tip of nose and fill in with black shadow. Create skeleton accents on brows and hollows of cheeks as well, and shade with black shadow.
Use the angled Glo-Lite Brush and the gold highlighter from the Glo-Lite Unicorn palette to add shimmery highlights to cheekbones. Apply Whatever Liquid Lipstick to lips then blend Grunge Liquid Lipstick over the top. Once dry, use the black Eyeliner Pen to draw a skeleton mouth extending to halfway point of cheeks. Add sparkly accents where desired to complete your skeleton makeup look!