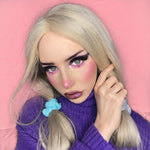 Shimmer Fantasy Makeup Idea
Pinks and purples are the colors dreams and unicorns are made of (in our minds anyways), so we're totally into this look from @kirstenkaye_ that has us feeling like we're in a shimmer fantasy makeup daydream. While this idea would look perf with any unicorn or fairy cosplay outfit, we also think this glittery good fantasy makeup is pretty enough to wear every single day. Because why not? 
Pair Tattoo Junkee Space Dust Metallic Eyeshadows with a Glitter Lava lip for easy fantasy makeup vibes that'll have you channeling your inner fairy princess. If your style isn't as dramatic as Kirsten's look in these photos, that's A-okay. You can still combine the shades she used on a lighter scale for features that pop with all kinds of prettiness.
For an eye look that's utterly fantastical, blend Cosmic Queen, Magic Dance and Galactic Goddess Space Dust Eyeshadows around eyes, with Cosmic Queen heavy around lower lids and darkening the upper corners with Galactic Goddess. Add on some feathery lashes for extra fantasy makeup flair.
Blend Cosmic Queen onto cheeks and nose and top with a dusting of glow from the Unicorn Glo-Lite palette, then swipe on Side Hustle purple Glitter Gloss to complete your fantasy makeup look. If you want to downplay the idea a bit, you can skip Cosmic Queen on your nose and use less on your cheeks for more blushing effects. You'll look stunning however you choose to shine this year!