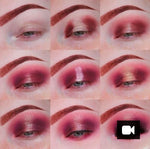 Metallic Eyeshadow Tutorial
There's no time like the present for giving your eye looks some cosmic flair with Tattoo Junkee Space Dust Metallic Eyeshadows. Not sure how to wear shimmering shadows to their fullest potential? We've got you, Babe. TJ enlisted the help of @gingersbeautycorner for this easy metallic eyeshadow tutorial that'll bring out your inner galactic goddess. 
This eyeshadow tutorial features TJ Space Dust shades Born in a UFO and Moonwalk, along with some of @gingersbeautycorner's own shadows that vibe with these colors. Check out her eyeshadow tutorial video above for application ideas then have fun experimenting with your own fave metallic shades! See her step outs below:
Make sure to use an Eye Primer base before applying your shadows for long-lasting, party-all-night wear! In this eyeshadow tutorial, @gingersbeautycorner also accented her Space Dust Metallic Shadow look with Tattoo Junkee Shimmer Effects in Money Maker for an extra golden glow. (PS. Shimmer Effects can also be used over the top of your long-lasting lip paints to light up your lips like a starry night!)
Don't forget to line your lids with our black Eyeliner Pen, then pop on some lashes and you've got a Space Dust Metallic Eyeshadow look that's hotter than a blazing comet.