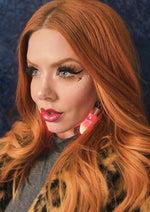 Day to Night Holiday Makeup Tutorial
For some people, the holidays are the most wonderful time of the year because of the food or the presents, but for us, it's the parties! Well, and the sparkly makeup we get to wear while catching up with friends and family (or waiting under the mistletoe for a little extra holiday magic to come our way).
But between working, shopping for gifts, baking and all the things that come with holiday parties, touching up our makeup for the perfect party look can be a challenge to squeeze in. That's why TJ babe @sarahrochellebane put together this Day to Night Holiday Makeup Tutorial using Tattoo Junkee Space Dust Metallic Eyeshadows and Glitter Lava Lip Gloss. Check out her makeup tutorial video above to see how you can build on your day look with glittery goodness for the holidays in a few easy steps.  
In this makeup tutorial, @sararochellebane used Space Dust Starlight on her lids and as a highlighter for her cheeks and nose, then accented her eye creases with Lady Stardust. She finished her eyes with a bold wing tip using the black Eyeliner Pen and added lashes for eyes that pop. For her lips, Sara created an ombre effect using Rebel and Summer Love Long-Lasting Lip Paints, then topped 'em with Kiss & Tell Glitter Lava Gloss for a holiday-ready pout that gives the gift of glitter as you gab.