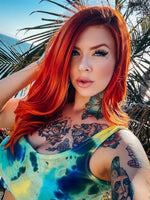 Makeup Looks To Rock With Different Tie-Dye Patterns
You've probably noticed by now that tie dye is the hottest fashion trend of the year. Whether you're into super psychedelic patterns or more subdued hues, leggings or old T-shirts and jeans, tie dye is where it's at! And if you're like us, you've been tie dyeing everything in your closet, but now you're wondering how to create the perfect makeup looks to go with your rockin' new fashion. TJ goddess @sarahrochellbane whipped up some awesome tie-dye tees with Tulip® Tie-Dye Kits, then created makeup looks to go with them using her favorite Tattoo Junkee products. Check 'em out and experiment with your own makeup looks in total TJ style.
This wicked makeup look pairs perfectly with the vintage Ghostbusters® tee Sarah tie dyed using the 2-N-1 Reverse Tie-Dye Kit. Reverse tie dye patterns are all kinds of cool because you can use the kit to remove the color from darker shirts then add bold tie-dye colors to the bleached areas. For her makeup look, @sarahrochellbane lined her lids with the black Eyeliner Pen in a dramatic wing and dabbed Starlight Metallic Eyeshadow on her inner lids, nose and other areas of her face for highlights. She gave her pout an otherworldly effect with the Dazed Lip Trio Kit and topped with a pop of Side Hustle Glitter Lava Gloss for that ethereal glow. Just note that with this entire look, you might run the risk of attracting more ghosts than busting 'em. (Count us in!)
You can't go wrong with a cropped tank top this summer. Get that easy breezy feel whether you're at the beach or in your backyard with a yellow, green and blue tie-dye pattern like Sarah. For a classic, lounging on vacay makeup look, Sarah paired her cropped tie-dye tank top with Tattoo Junkee Eyeliner and Starlight Metallic Eyeshadow for subtle shimmer. She then enhanced her lips with the natural appeal of the Skinny Dip Lip Trio Kit with a dab of Pop the Bubbly Glitter Lava Gloss to play up her pout to perfection. The only thing left to do now is pop some actual bubbly and soak up the sunshine for extra feel-good vibes.
Have some tie dye left over? Get your fam in on the action with rockin' tie-dye patterns all summer long! Check out these Tulip Tie-Dye Kits to find one that vibes with your style, then grab your TJ stash and get ready for the ultimate summer statement.