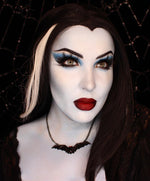 Gothic Halloween Makeup: Lily Munster
If you're looking for us on Halloween, you'll find us waiting in a dark alley hoping a vampire as cool as Lily Munster takes a big chomp out of our necks. We'd take becoming a hot bloodsucking maven who lurks in the night over being an everyday human in 2020. Wouldn't you? This Lily Munster look from @bayleemadisonmakeup has total gothic Halloween makeup vibes, and we can't get enough of it. Check out her tutorial using Tattoo Junkee Cosmetics and get ready to get glamorously goth this Halloween.
Is it even gothic Halloween makeup if you don't have those vampy, undead undertones? Give yourself a ghostlike base using your favorite white, blue and/or gray face paints. Once you have those all blended, use the liner from your Leather Lip Trio Kit to fill in and shape your brows so they're all drama and less dreamy.
Next create an exaggerated eyeshadow wing effect using Life on Mars Space Dust Eyeshadow. Blend a darker gray or black in your creases and the outer edges.
Highlight under the arches of your brows and the inner corners of your eyes using your favorite Glo-Lite palette, then dust highlighter over your brow bones and cheeks to your liking. It's gothic Halloween makeup, so don't be afraid to get extra ethereal with it.
Smudge black liner along your lower lids, then use your black Tattoo Junkee Eyeliner Pen to create a bold wingtip effect on your top lids. Add mascara to your lashes, and for extra Lily Munster flair, throw on some bold lashes to complete your eye look.
Line your lips with the black liner from your Leather Lip Trio Kit, then fill in the outer edges of your lips with Leather Lip Paint. Blend Rebel Lip Paint in the center and outward into the Leather for an enchanting ombre effect.
You can't be Lily Munster without that iconic black hair with wickedly cool striping, so put on your wig (or add to your own hair if you're lucky enough to have jet-black locks), then create Lily Munster's dramatic widow's peak using the TJ Black Eyeliner Pen.
Your glam gothic Halloween makeup is now in full effect. However you're celebrating this year, make sure you take a bite out of Fright Night the Lily Munster way.