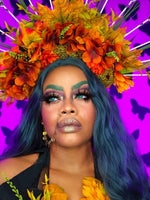 Green Goddess Halloween Makeup Tutorial
Halloween doesn't always have to be scary, right? Just extravagant - and what could possibly be more extravagant than a goddess? No goddess is alike, each one has their own domain, their own virtues, and (most importantly) their own look. What they do have in common, though, is their ability to outshine and enchant everyone around them. Today we're teaching you how to become the most enchanting Green Goddess this Halloween with a makeup look by @epic.werk! Check it out below! 
This look starts with the eyebrows. Draw a faint outline of your brows with your usual product. Then, using the colors and product of your choice - any kind of high-pigment eye or brow product should work! - paint on alternating color lines in the direction of your natural hair. It should look a little cartoonish, but that's the point! Would a goddess really go with just any brow look?
Now onto the eyes! Cover both eyelids with your choice of foundation or tinted primer. Then, taking your Metallic Eyeshadow in Starlight, cover your eyelid all the way up to the crease. Don't be afraid to use a couple of layers, you want it nice and white to use as a base. Make a nice little wing here, too. Don't be upset if it's a little messy, you'll go and clean it up later!
Then, using the Metallic Eyeshadow in Galactic Goddess, cover from crease to brow bone. Follow the arch of the wing you made earlier and blend everything down just a little bit.
Using the Eyeshadow in Born in a UFO, cover the entire white portion of your eyelid. You're already starting to look like a deity!
Finally, using the Glittzees Hair & Body Glitter in Hippie Chic, make the final wing nice and big, from lashline to the center of your Born in a UFO eyeshadow. Here's your opportunity to really define the ends of those wings and clean everything up just the way you want it. 
Do your face like you usually would and give yourself a nice, warm blush and a highlighter to top it off (we recommend the Glo-lite Unicorn Collection for an otherworldly look!). Dust a little highlighter on the tip of your nose and the corners of your eyes, too! A goddess should always be glowing, right? 
For your lips, grab your Animal Instinct Lip Trio Lip Kit. Use the Lip Paint like you normally would and top it off with the glitter to really make yourself shine! 
For the last touches, grab your favorite blue or green wig (or if you're up to it, maybe some hair dye!) and your biggest, boldest eyelashes. Whether you're crafty enough to make your own flower crown or find one at the nearest costume store, it doesn't really matter, you're going to command whatever room you feel deserves your presence tonight. Pack on the gold jewelry, wear your most divine dress, and get out there and show your friends exactly who owns Halloween night!