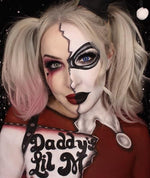 Harley Quinn Makeup Tutorial for Halloween
Halloween is all about mischief, and who embodies the spirit of mischief better than Harley Quinn herself? There's just one big question: which Harley could you possibly choose? Of course, there's always the classic, black mask, and giant hammer Harley, but now there's the new, crazier-than-him and unbelievably badass Harley Quinn. 
Instead of spending all that time you could be causing mischief trying to choose between them, why not do a little of both?  This half-and-half Harley makeup look by @bayleemadisonmakeup gives us the best of both worlds using Tattoo Junkee Cosmetics - check it out!
First, grab your black Tattoo Junkee Eyeliner Pen and split the two sides of your face down the middle with a jagged line. Make sure to extend the line down your neck and collarbones if you want to paint her outfits on, too!
Choose one side of your face and paint it white with a face paint or foundation of your choice, covering up as much of your eyebrow as possible. We'll do this side later. First: Suicide Squad!
'Suicide Squad' Harley Quinn Makeup
Do this eyebrow like you normally would. Grab your Space Dust Eyeshadow in Cosmic Queen. Cover your left eyelid all the way up, stopping just below the brow bone. Give your under eye a little color too and don't forget to make it run a little bit just like Margot Robbie's iconic Harley Quinn. 
Take the lip liner from the Leather Lip Trio Lip Paint Kit and cover your waterline in black to give yourself a bit of that smoky, mysterious look. Grab that black eyeliner pen again and give that eye a nice, defined wing and a little heart underneath. If you're missing a little bit of that Jared Leto Joker flair, go ahead and write rotten right along your jawbone. 
Using the Lip Trio Lip Paint Kit in Rebel, line that half of your lips and then apply the lip paint and blend it into the line. Don't be afraid to get a little messy - we know Harley certainly wouldn't.
Now onto the original! 
'Original' Harley Quinn Makeup
Grab the lip liner in Leather and draw one half of her mask over your other eye, coloring it in nice and dark. Leave plenty of room for eyeshadow and eyeliner!
You'll use the Space Dust Eyeshadow again but this time in Meteor Shower! Apply just up to your brow bone (which should be just under the mask!) and down along the underside of your waterline. Use whichever contour you prefer and give yourself a good, defined cheekbone. 
Then, use the Leather lipliner and darken the outer corner of your eyelid, from the middle of your lash line to the middle of your waterline. Really make it pop! Give yourself another dramatic wing with the black Eyeliner Pen.
Using the liner and lip paint from your Leather Lip Trio Lip Paint Kit, do the other half of your lips. 
Finally, take your Glo-lite Unicorn Collection Highlighter and, using the first two shades, highlight just above your brow and the high points of your cheekbones. Throw on your favorite set of falsies to give you that wide-eyed look, Harley's messy blonde pigtails, and voilà! Don't forget to grab a baseball bat on your way out to be the baddest anti-hero on the block this Halloween. You're gonna need it!