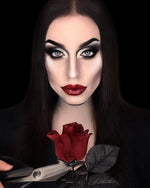 Tattoo Junkee's Top 12 Halloween Looks of 2020
Are you still trying to figure out the perfect costume for that last minute Halloween party? Have you been scouring the internet for the spookiest outfit available? Well look no further, we've got you covered. With the TJ 2020 Halloween Roundup, we're sharing our top 12 Halloween looks that you can create with your very own Tattoo Junkee collection! 
1. Harley Quinn 
Harley Quinn has always been one of our favorite anti-heroines in the Gotham universe, no matter what she looks like. With this look by @bayleemadisonmakeup, you can get the best of both Harley Quinn's using TJ favorites like the Eyeliner Pen and the Lip Trio Lip Paint Kit in Leather. 


2. The Nightmare Before Christmas Sally 
Who doesn't remember binging A Nightmare Before Christmas every October? Using your most colorful Tattoo Junkee products like the Glitter Lava Lip Gloss in Kiss & Tell and the Metallic Eyeshadow in Moonwalk, you can do @beautyandthebeests' spooky-sweet Sally look yourself this Halloween. This one even has a 2020 twist, turning Sally's iconic stitches into a face mask!


3. The Other Mother 
by @gothpixi
Coraline might be one of the newer Halloween movie classics, but it's certainly made its mark. If you've ever wanted to try out soul-stealing, even just for a night, then this wonderfully creepy Other Mother look by @gothpixi is the perfect costume for you! Using your Tattoo Junkee Eyeliner Pen in black and white and our Lip Trio Lip Paint Kit in Rebel, you'll definitely scare the buttons off of all your friends!


4. Pumpkin Princess
 
Some Halloweens you don't want to be a character, you just want to be spooky! Using the Tattoo Junkee Space Dust Metallic Eyeshadow in Born in a UFO, the Lip Trio Lip Paint Kit in Leather, and a whole lot of orange face paint, you can rule the pumpkin patch all night long.


5. Morticia Addams
Morticia Addams and the rest of her iconic family are the definition of Halloween glamour. Super recognizable and deceptively easy to pull off, you won't have to worry about a last-minute costume anymore. All you need are the TJ Lip Trio Kits in Leather and Rebel, some Glitter Lava in Kiss & Tell, and the Space Dust Eyeshadow in Meteor Shower. Just don't forget your right-hand man (ba dum tss)!


6. Classic Catwoman 
Is Catwoman not the single sexiest member of the rogue gallery? Whether you're thinking Eartha Kitt or Michelle Pfeiffer, this rubber-clad anti-heroine will make the perfect costume for you to steal the spotlight (and maybe some hearts) wherever you're going this Halloween. The most notable part of this look is the ombre lip, using the TJ Lip Trio Lip Paint Kit in both Rebel and Leather!


7. The Nightmare Before Christmas Zero 
by @mellyrosel
If Sally's not really your speed, we're paws-itively in love with this creepy cute Zero look by @mellyrosel. You could even get the whole crew together if you're rolling with friends this Halloween night! In this look, Zero's adorable pumpkin nose uses the Space Dust Eyeshadow in Born in a UFO, with our Lip Paint Lip Trio Kit in Leather and Space Dust Eyeshadow in Meteor for the lips and eyes!


8. Bride of Chucky 
Chucky might be the namesake of the series, but his bride is a fan favorite. Using this tutorial for @sydneynicoleaddams' killer interpretation of Tiffany, you can transform into a bride worth dying for. Grab your Space Dust Metallic Eyeshadow in Galactic Goddess, a white dress you don't mind getting a little dirty in, and go slay Halloween!


9. Couples Costume: The Corpse Bride 
by @gothpixi
Whether you're going Halloween night alone or pairing up with a mysterious someone, this look by @gothpixi has everything you'll need. Using TJ products like Metallic Eyeshadow in Life on Mars and the Lip Trio Lip Paint Kit in Happy Hour, you'll be this century's most hauntingly beautiful bride!


10. Hocus Pocus "Dead Man's Toes!" 
Not feeling a full costume but still wanting to do something fun? This Hocus Pocus inspired look by @comavvitchmua is the best way to get in the spirit of the season while simultaneously paying homage to a Halloween classic! Featuring our Leather Lip Trio, Viper Glitter Lip Gloss, and Barefoot Lip Gloss.


11. Bold Witch
by @sn0ok
Witches don't always have to have long noses and skulk around in spooky forests (unless that's your thing, of course!). Some witches are just as beautiful as the magic they make! With this colorful tutorial, as well as some TJ Space Dust Eyeshadow in Moonwalk and Cosmic Queen and our Glo-lite Unicorn Collection Highlighter, you can turn yourself into the kind of witch that will enchant friends and foes alike.


12. Plastic Surgery Nightmare 
by @tedyana_
Most of us have thought about plastic surgery at least once - but what if the worst happened? You save up all your money, schedule your dream procedure, and then you find out that the doctor wasn't all he said he was… but only after you wake up. With this terrifyingly realistic look by @tedyana_, you can make the nightmare come alive with our Moonbeam Glittzees, Space Dust Eyeshadow in Magic Dance the Lip Trio Lip Paint Kit in Animal Instinct - at least just for Halloween.