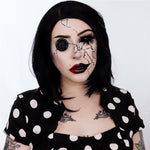 Coraline The Other Mother Halloween Makeup Look
What do moms and demons have in common? They can both be scary as hell, right?! If you're looking for a different kind of Halloween makeup look for a different kind of Halloween this year, you're checking out the right post. You could dress up as your own mom (don't blame us if she gets mad at you), but we're digging this Coraline The Other Mother Halloween makeup look from @gothpixi. Inspired by the demon posing as a mother in the movie "Coraline" (in case you couldn't tell), this look is super easy to create with just a few products from your Tattoo Junkee cosmetics stash. Check out the tutorial and get ready to spook the kids in your family this Halloween.
To transform yourself into the Other Mother Coraline character, start by applying your typical concealer and foundation base. If you want to get a little more ghostlike with this Halloween makeup look, try going a few shades lighter with your foundation and powder. Then use the Tattoo Junkee Black Eyeliner Pen to draw "cracks" on your face. You can draw them in the same way @gothpixi did, or however you like; it's your Other Mother costume! Experiment and make it your own.
Use the White Eyeliner Pen to accent and highlight the cracks.
For your lips, use the liner pencil from the TJ Leather Lip Trip Kit to line half of your lips on the top and bottom, exaggerating the length on the side as far as you like. The scarier, the better. Fill in that side of your lips with one or two coats of Leather Lip Paint, slightly blending into the other side of your Other Mother mouth.
Line and fill in the remaining side of your mouth using the Rebel Liner and Lip Paint, blending the Rebel shade into the Leather as shown.
Play up your eyes however you like (don't forget that Coraline Other Mother button!), then add a pop of otherworldly shimmer to your lips with the Scorcher Glitter Balm. Complete your Other Mother Halloween makeup look by throwing on a dark wig with a sleek cut (we wouldn't mind having that haircut, actually), and you're ready to freak out some kids this Fright Night. Extra points if you send them running to their moms!