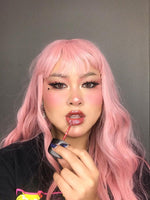 Glitter Lava Oozes with Shimmer
If you've been searching for glitter glosses that don't skimp on sparkle or pigment, you've come to the right place! NEW Tattoo Junkee Glitter Lava Glosses are highly pigmented and oozing with shimmer for a pout that's almost too hot to handle. Aside from the stunning colors and sparkly goodness, we're super stoked that these glosses are vegan and cruelty free, so you can feel good about that glitter you're swiping on daily.
And because we never leave home without our lip color - Glitter Lava comes in ultra-slim casing that easily fits in your pocket for gorgeous glitter lips everywhere you go! Get inspired to get your shine on with these rockstar-status looks created by @jada.desireewearing Tattoo Junkee Cosmetics.
Feeling blue? Create a mood with ultimate cool girl vibes in Glitter Lava Side Hustle - a deep purple glitter gloss that shines like a boss. Treat your lids to an out-of-this-world experience in Space Dust Eyeshadows Meteor Shower, Galactic Goddess and Starlight. 
Stay the life of the party in Glitter Lava Pop the Bubbly - a golden nude glitter gloss with shimmer that's worth celebrating. For the eyes, @jada.desiree used Space Dust Born in a UFO, Lady Stardust and Starlight.
Get prettied up in pink with Glitter Lava Kiss and Tell, a dark cherry glitter gloss with flirtatious effects. Give those lids some shimmery love with Space Dust Starlight and the Black Eyeliner Pen.