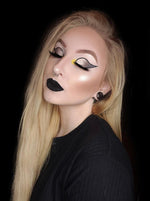 Cool Smokey Eyes Metallic Shadow Look
Wintertime is the perfect time for smokey eyes in cool tones that give your look a frosty glow. This stunning smokey eyes Space Dust Metallic Eyeshadow look created by @sarahxmcmillan is sending us off into orbit with its beautiful blend of shadows that makes us feel like we're being lured into a cosmic black hole of No Return (to life after Space Dust).
If you're not feeling quite as bold as Sarah, you can still use this color combo for smokey eyes in a subtler fashion for a look that's still rockin'. 
If you're going bold, you can start with a base of Primer and the Black Eyeliner Pen, drawing in whatever shape that complements your eyes.
Use your lightest shade, Starlight, on the inner part of each eye and blend Lady Stardust slightly into the Starlight and over the middle of lids. Blend Meteor Shower into the outer corners, making sure to leave an outline of black around edges for a fun variation of a traditional smokey eye look.
To make your inner corners pop like lightning, try using a vibrant contrasting shade like Moonwalk. Finish with mascara and lashes, then highlight your brow arches and cheekbones with the Unicorn Glo-Lite Palette. Top with a dramatic lip like Leather Matte Lip Paint and you'll be ready to give winter a run for its money because there's a new cool girl in town (with the hottest smokey eyes).