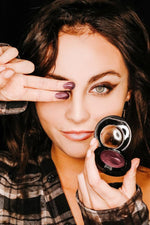 Everyday Edge with Space Dust Metallic Eyeshadows
Okay TJ babes, you've been asking about new shadows for a while now, and we promise we've been listening! NEW Tattoo Junkee Space Dust Metallic Eyeshadows just dropped in a color palette guaranteed to up your everyday edge. Packed with rich, spongy pigment and out-of-this-world shimmer (there's a reason we call the line Space Dust), you're gonna love every shade in this cosmically cool release.
And at just $5.99 each, you'll be able to mix and match your favorites (so basically all of them, right?) without buyer's remorse. Beam us up, Bowie!
Check out the video from our girl @tori_josephine to see how you can give your lids the star treatment by pairing 4 of the new Space Dust shades: Born in a UFO, Lady Stardust, Starlight and Galactic Goddess.
@tori_josephine completed her (inter)stellar full face look with other Tattoo Junkee products: the black Eyeliner Pen for added definition, Glo-Lite Summer Sun for highlights, and the Big Shot Lip Trio Kit for that perfect pout.
Get up close and personal with our new Space Dust colors:
Starlight is a light nude metallic eyeshadow that will make your lids twinkle like the night sky.
Lady Stardust is a metallic bronze eyeshadow that will give your eyes a sunkissed glow.
Born in a UFO is a bright copper metallic eyeshadow that will beam you up to bold babe status.
Meteor Shower is a metallic pewter eyeshadow that'll send 'em into orbit with every glance.
Galactic Goddess is a deep plum metallic eyeshadow that'll have you looking like cosmic royalty.
Have you added all of these stunning shadows to your shopping cart yet?