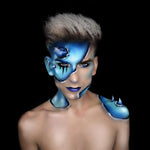 Blue Devil Halloween Makeup
Of all times of the year, Halloween is the perfect time for ghosts, demons and all things wicked to come out and play! (No wonder it's our favorite!) This blue devil Halloween makeup from @paulie_sfx has us torn between wanting to call a priest for an exorcism and calling our friends for a scary good time. Doing both sounds even better, actually. Check out his devil Halloween makeup video and read on for extra deets!
First use face paint or a dark shadow and a liner brush to create linework on your face, neck, shoulders and anywhere else you'll be applying your devil Halloween makeup effects. It doesn't have to be perfect; you'll want your lines jagged, almost like a peeling effect. If you're adding any spray color to your hair, now's also the time to do it in case you need to clean off any overspray from your skin.
You can buy premade devil horns or easily make your own out of foil and paint, or other materials. Find something online you like and go with it! Tack your horns onto your face and body using a skin-safe adhesive, then use other cosmetic products as needed to help create a seamless look. Since this is a blue devil Halloween makeup look, you'll want to use blue face paint as your base within each of the sections you created in the steps above. (Not into blue? Modify to any color you like!).
Next use Tattoo Junkee Space Dust Metallic Eyeshadow in Life on Mars to add depth and shading to the blue patches on your face, neck and shoulders. Add a little to your cheekbones for an extra ghoulish glow up! Create your favorite smoky eye looks using dark shadows and enhance with the black Tattoo Junkee Eyeliner Pen and lashes. Use this same black Eyeliner Pen to darken and add definition to the lines around your blue patches, then enhance with the white Eyeliner Pen for highlights.
Top that devilish grin you've got going on with the Dazed Lip Liner and Liquid Lip Paint from the Lip Trio Kit for true blue effects! You can even use the Lip Paint like @paulie_sfx on your brows if you're wanting those extra moody vibes. Top your lips with the glitter effects that come in your Lip Trio Kit, and you're ready to haunt your crew with this awesomely eerie devil Halloween makeup!