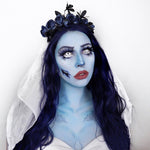 Scary Halloween Makeup: Corpse Bride
Our previous Halloween makeup posts have focused on fun, easy costume looks you can recreate with your TJ makeup stash, and now we're ready to up the fear factor with this scary Halloween makeup corpse bride look from our girl @gothpixi. Read on for tips (using Tattoo Junkee of course) and don't be afraid to get real spooky with your own corpse bride look. Paired with an old wedding gown you can snag at a thrift shop and a dark flower crown, we think this is one scary Halloween makeup idea that looks good enough to raise the dead. 
GET THE LOOK: Scary Halloween Makeup - Corpse Bride
To create a deadly blue base on your skin, you'll want to use a cosmetic sponge and blue body art paint, following the application instructions that come with your paint. Apply heavier coats of paint along your collar bone and ribcage for extra emphasis and to create a skeleton-like effect. Repeat around your face and on nose and hollows of cheeks.
Use Tattoo Junkee Eye Primer as a base on eyelids, then apply Life on Mars metallic eyeshadow from lids to brows and around outer edges of eyes to lower lids. Use the white Eyeliner Pen to line lower lids, and the black Eyeliner Pen to line upper lids in a winged style. For added emphasis like Gothpixi, you can also line the inner corners of eyes and spots along the lower lashes if desired. Use the white Eyeliner Pen to create freckles along cheekbones and nose, then use both Eyeliner Pens to draw an open wound on the side of cheek with teeth showing for extra scary effects. Tip: draw the teeth in white first, then outline with black and draw in the rest of the open wound. Dab Life on Mars around the wound for depth.
Fill in brows and add lashes, then use Happy Hour Lip Paint on lips. If you're going for an extra scary Halloween makeup look, add white contacts like Gothpixi for a corpse bride with looks that kill. You can even switch out your lip color to Grunge for an even un-deadlier lip look!
If you're dressing up as part of a couples' costume look, give your groom extra ghoulish appeal by applying a Primer base to eyes, then lining eyes with the white Eyeliner Pen, followed by the black. Smudge black shadow completely around eyes. Dab some Grunge Lip Paint in splotches on lips and add those creepy contacts and you're guaranteed to win scariest couples' costume at this year's Fright Night fest.