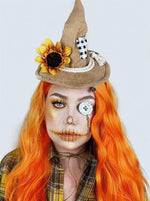 Easy Halloween Makeup Idea: Scarecrow
Dressing up for Halloween can get expensive, or complicated, or both, but it doesn't have to be. If you're looking for an easy Halloween makeup idea - and one you don't have to spend a lot of money on - you've come to the right place! This wickedly cool scarecrow costume put together by the talented @tedyana only requires a few makeup products for an easy Halloween makeup idea that's as fierce as it is frightening.
GET THE LOOK: Easy Halloween Makeup Idea - Scarecrow
First start off with your favorite concealer and foundation, then follow up with filling in those brows. For the eye (or both if you decide not to create a button eye piece), decide which eye will be exposed, then apply Moonwalk over lid. Use an orange shade to darken the corner of eye, then use Glittzees Moonbeam to add some serious sparkle to your lid.
Line your eye with brown or black liner, then use Moonwalk on the inner eye to highlight and make it pop. Put on some lashes and your eye look is complete!


Use some of the same orange shadow you used for your eye look to create contour for your cheeks, then highlight cheekbones, nose and cupid's bow with Moonwalk. Blend orange shadow over your mouth, extending on both sides of lips, and highlighting the edges with Moonwalk.
Use brown liner or face paint to create freckles, a cute scarecrow nose and stitch lines over the mouth area.


OPTIONAL:
Weave twine through the holes of a large button and attach a sewing needle to the ends of twine. Use eyelash glue to attach to eye.
Then all you have left to do to finish this easy Halloween makeup idea is plop on a scarecrow hat (and orange wig if you want) and your favorite flannel. Just beware, instead of scaring everyone off, they might just flock to you instead!