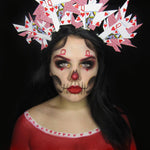 Queen of Hearts Day of the Dead Makeup How To
Halloween is just around the corner, and if there's one thing our Junkee Tribe loves, it's showing off their creative skills with costume makeup. We might be biased (okay we're totally biased - for good reason) but we think Tattoo Junkee products are perfect for Halloween makeup - as well as for like, every day of the year. You won't need to spend a lot of money because most Tattoo Junkee products are under $8, and they're super versatile so you can create a full Halloween makeup look for less.
If you're in the mood for a different kind of costume this year - one that stands out with originality - take your cue from body paint artist @BeautyAndTheBeests and her haunting Day of the Dead Makeup look with a Queen of Hearts spin. Go mad with shades of red and black, and sparkly gold glitter for a Day of the Dead Queen with looks that kill. 
GET THE LOOK: Queen of Hearts Day of the Dead Makeup How To with Tattoo Junkee
Use the Liner from TJ Liner Kit Crave (or even Hustle) to draw hollowed sections on forehead and cheeks, then use a blending brush to blend Leather Lip Paint into sections, adding black shadow if desired.
Dip your liner brush in Leather and create a similar section on nose, then blend in red from Pucker Up Lip Paint. While the paint is still damp, accent with the included red glitter effects from the Pucker Up Lip Kit. Use Leather to create a solid black base on eyelids, then blend black and red shadows (or use Pucker Up) around eyes for an extra smokey Day of the Dead makeup look. 
Accent brows and lips with ombre effects from Rebel and Pucker Up Lip Paints then add red glitter over the top while lip paint is still damp. Use a liner brush and Leather to create skull lines around lips.
Accent inner corners of eyes and hollowed face designs with Moneymaker gold glitter effects, then use a liner brush and Pucker Up to paint hearts under eyes and a Q over each brow. Dust red glitter over each to finish. 
Dice up some Queen of Hearts playing cards to create your own cool crown, and you've got this Day of the Dead Makeup How To on lock! You'll be ready to steal hearts (and maybe some extra candy) this Halloween.