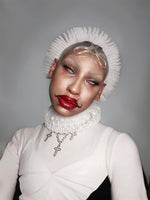 Michael Hussar Inspired Halloween Makeup
If you haven't heard of artist Michael Hussar, get on Google stat and look up his hauntingly incredible paintings. You won't regret it. That's why we're all about this wickedly cool Michael Hussar-inspired Halloween makeup look from makeup artist @beatbyvanity using Tattoo Junkee products. If you're looking for a truly different costume this year, take @beatbyvanity's lead and dress up like an art piece from one of your favorite artists!
GET THE LOOK - Michael Hussar-Inspired Halloween Makeup 
@beatbyvanity created three killer looks with a similar vibe - building upon the intensity of each look. It's up to you how tricked out you want to get! In the first look she went with an eye look a little more subdued, using lip paints Sugar, Barehug and Animal Instinct from the Urban Jungle Mini Lip Kit Set to accentuate her eyes. She added Lollipop Angel Dust Sparkle Lip Topper to the inner corners of her eyes for a pop of shine.
For a more intense eye look like in the second image, she added shades Semi Sweet, Spoiled and Heartless from the Metallic Mini Lip Kit Set. For intensity that makes your blood curdle a bit like in the last image, use Rebel Lip Paint around eyes for a bold bloodshot look.
For the rest of her face look, @beatbyvanity used the Unicorn Glo-Lite Palette for highlights in the T zone, and Tattoo Junkee Lip Paints Leather, and Rebel and Vixen from the Matte Mini Lip Kit Set. The best part about dressing up as art is you get to add your own creative flavor to your costume. Whatever you're dressing up as this year, with Tattoo Junkee your Halloween Makeup will last til you're ready to nurse your Halloween hangover the next day.