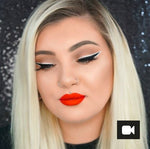 How To Use Tattoo Junkee Eyeliner Pens
Sometimes (okay pretty much all of the time) eyeliner is everything to a makeup look that plays no games. There are few things more frustrating than eyeliner that's messy and difficult to apply, or just won't stay put when you're out trying to hustle.
Whether your style is classic, bold or defyingly dramatic, come collect with eyeliner that's always on point. Tattoo Junkee Eyeliner Pens are long lasting, smuge proof and waterproof; even better, these easy-to-use brush-tip marker pens can be used for everything from eyeliner to lip and body art.
Eyeliner Queen Emily Susanah shows you how to make your lids pop with a mix of black and white; duplicate her look or create your own edge factor. And don't forget to tag us #tattoojunkee or #tattoojunkeecosmetics ... we love seeing how you glow up with TJ products!