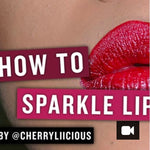 How To Get Gorgeous Glitter Lips
Glitter is magical! If it wasn't, would unicorns and fairies sprinkle it everywhere they go?! So obviously we LOVE that glitter lips are super hot right now, and we're gonna show you how easy it is to play up your pout with the shimmery goodness in our Sparkle Lip Paints Collection.
Step 1
You always want to start with clean, dry, exfoliated lips. If you're worried about your lips feeling too dry – let's be honest, it can happen sometimes with long-lasting lip paint – you can apply a non-oily balm to your lips before applying your lip color. Make sure to blot away excess balm with a tissue.
Step 2
Shake your tube of Tattoo Junkee liquid lipstick, then use the wand inside of the cap to apply one even coat of color to lips. Hold lips apart for 30 seconds to one minute while the lip paint dries, then add another coat if needed.
Step 3
Once you're happy with your lip paint coverage, let it dry for about a minute or so, then, using an applicator brush (or even your finger), dab the glitter effects all over your lips. Purse your lips together a few times to make sure the effects are even and pressed in place.
Step 4
Now you're ready to glow, everywhere you go!