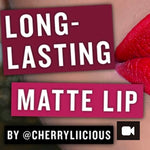 How To Get a Perfect Matte Lip
Here at TJ central, we get a lot of questions about how to create the perfect long-lasting matte lip; if you've never used long-lasting liquid lipstick before, it can definitely take some getting used to! We've found that a little bit of prep goes a long way in keeping your lip color on point throughout your day.
Step 1
You always want to start with clean, dry, exfoliated lips. If you're worried about your lips feeling too dry – let's be honest, it does happen sometimes with long-lasting lip paint – you can apply a non-oily balm to your lips before applying your lip color. Make sure to blot away excess balm with a tissue.
Step 2
Shake your tube of Tattoo Junkee liquid lipstick, then use the wand inside of the cap to apply one even coat of color to lips. Hold lips apart for 30 seconds to one minute while the lip paint dries, then add another coat if needed.
Step 3
BOOM! You're ready to rock bold, beautiful matte lips!