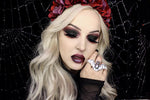 Easy Vampire Makeup Tutorial
Is searching for the perfect Halloween costume sucking the life out of you? Your search stops here with this easy vampire makeup tutorial from @bayleemadisonmakeup. Let's be honest, we all wanted to live the vampire life after Twilight came out ... is there anything more disturbingly glam than a flashy creature of the night who can kick some serious a**?! 
The best part about this vampire makeup look is that you only need to drop minor change on on a set of pointy teeth and maybe a flower crown, which you can either find or make for super cheap. The rest is all Tattoo Junkee makeup, which you already have (hint, hint). The result is a sultry vampire makeup look that totally gives us life. Move over Bella, there's a new vamp in town.
GET THE LOOK - Easy Vampire Makeup Tutorial
First apply your concealer and foundation as you normally do. For your eye look, apply a black shadow around upper and lower lids for the ultimate smoky eye, then blend a red shadow around the black for total vamp vibes. Line upper and lower lids with the black Eyeliner Pen, then accent the inner corners of eyes with Love Spell Lip & Eye Effects. Finish with mascara and lashes.
Use the gold highlighter in the Unicorn Glo-Lite palette to highlight brow bones, cheeks and cupid's bow. Line lips with Liner from the Hustle Lip Liner Kit, then fill in with Hustle Lip Paint. Smudge some of the color just above lips and use the Lip Color Corrector to wipe away some of the color to mimic blood stains. Blend Vixen Lip Paint on the outer edges of lips to darken, then dab Bankroll Glitter Glosson the center of lips for extra sparkling effects. Use Hustle to create a blood drip extending from bottom lip.
Insert those pointy teeth and you have a vampire makeup look that'll last all night.